The best running backpack for commuting
Running backpacks for your work commute by stolt running

Discover the best running backpacks for your commute, from sweat resistant bags to laptop rucksacks. With free worldwide shipping and 2 year warranty.
Running backpacks with laptop compartments
Whether you're a jogger, sprinter or multi-marathoner, you'll need a running backpack that can keep up. It should be lightweight, comfortable and fit for long, sweaty journeys. And it helps if it looks good doing it.
If you've started adding a speedy commute to your weekly miles, you'll need a running backpack with a laptop compartment too.
Meet our range of multifunctional backpacks for the active commuter. From our odour-resistant material to our hide-away strap system, every feature is designed to take you from the street to the boardroom in a few flawless steps.
Discover our range of commuting backpacks and accessories to turn your journey into the office one you look forward to.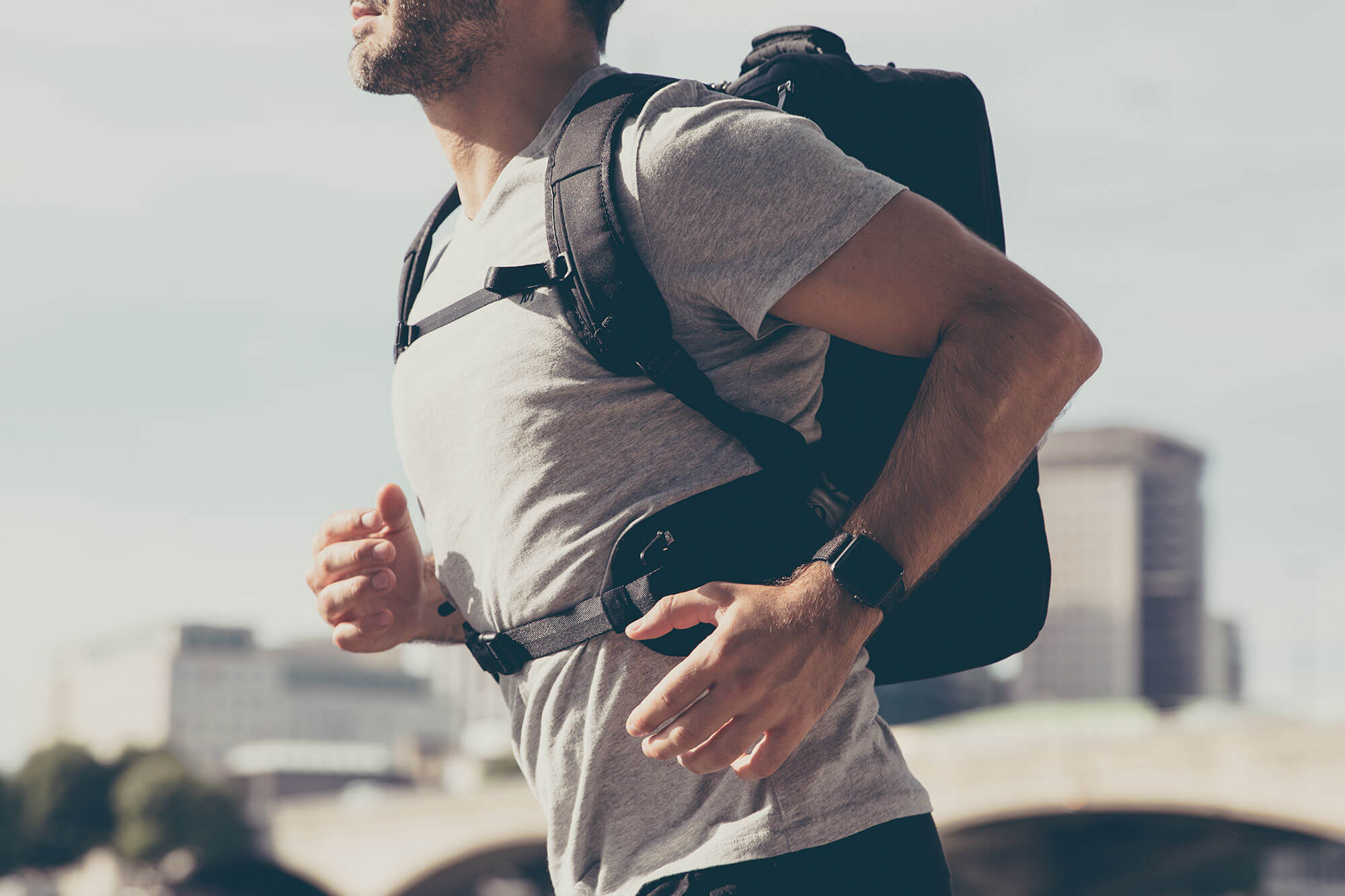 Meet Stolt
Running backpacks for the active professional
Most running backpacks aren't office appropriate. And most commuter backpacks aren't comfy enough to jog in. That's where we come in.
Stolt is a London based boutique that makes the best running backpacks in town. We're happy to make big statements like that, because the likes of WIRED, the Evening Standard and various backpack review platforms agree.
Our founders were tired of trekking through the city with a bag that didn't serve them. So along came our award-winning Alpha design which enables commuters to run, cycle or walk to work without compromising on style.
Since then, we've launched a whole range of running backpacks that each combine the top technical performance of a sports bag with the sleek aesthetics of a professional one.
Durable, premium material
Separate compartments
Expandable shoe pocket
Sleek design for work and play
Padded laptop compartment for devices up to 16"
Adjustable straps and breathable back panel
Hide-away padded backpack straps
3-way shield combating rain, sweat and odour
Optional garment box for crease-free clothing
Option to add a folding assistant, hi-vis cover and laundry bag
Each of the above features (and more!) mean our backpacks really are business – and they look it too.
Running backpack sets
Our backpack sets are the ultimate kit for professionals on the move, helping you sprint from home to the boardroom in style.
Keep your sweats and suit separate with our light-weight garment bag that fits perfectly inside your running backpack. With the help of a how-to folding card, this essential storage box is especially designed to keep your workwear wrinkle-free, no matter how fast you run. Choose it in black or blue to match your rucksack.
Out at all hours? A high visibility rain cover will keep you and your bag safe in the dark, whilst your belongings stay perfectly dry. Wondering where to store your gym kit? Don't sweat it – there's a specialist laundry bag just for that, with anti-microbial material to keep any odours contained.
Alpha Business Set
The award-winning Alpha Business Set is made for running commuters. Expect an ergonomic design that transforms from a technical sport bag to sleek office accessory in seconds – plus all the Stolt trimmings that'll mean your backpack will endure years of high performance.
Our signature anti-microbial treatment is where the Alpha really shows off. Combating sweat and odour, this unique technology is made for runners and commuters alike who aren't afraid to go the extra mile.
Inside you'll find small pockets to store your stationary, a padded laptop compartment and an expanding section to keep your shoes, files and bigger items secure. There's also easy-access pockets on the waist straps – so no more rummaging for your work pass in front of security.
Looking for more? You deserve the best – which is why the Alpha Business Set comes with everything you'll need to hit the gym, streets and office floor in style. Keep clothes fresh and crease-free in a complimentary garment case whilst a folding assistant, hi-vis dirt cover and gym bag make this a truly multi-purpose set.
It's back in stock after a limited run sold out in seconds. So go, go, go!
"An investment bag you could easily get a lifetime of use from" – Evening Standard
Capacity: 20-25L
Weight: 1.2kg
Alpha C Business Set
For runners who mean business, the Alpha C Business Set is a non-negotiable. It's tougher, smarter and even more versatile, transforming from a backpack, to a briefcase, to the ultimate crossover bag. So really, it's three bags in one.
High-end ballistic nylon is what gives our latest running backpack an even sturdy design whilst a clever hideaway solution makes it adapt to any situation. Easily tuck away backpack straps to go from runner to worker with a side and top handle for easy carrying.
Then there's the storage. Your set comes with a Stolt garment box to carry clothes without the creases, plus a laundry bag for storing your workout gear. Both slip easily into the Alpha C's expandable compartments that still have enough space for running trainers and your laptop.
Staying overnight? Whether for a business trip out of town or active weekend on the tracks, this running backpack is the ultimate travel companion. Snacks, suits, energy drinks, electronics and toiletries – you can fit your entire packing list and more in this compact rucksack.
"This bag from Stolt is truly a gem"
Capacity: 20-25L
Weight: 1.4kg
Podium Business Set
Regular runners will love the Podium – a set designed for daily life. Slightly smaller than the classic Alpha backpack, it offers a more compact design that still has enough room for your commuter essentials.
The business set comes with your runner backpack, folding card and a hi-vis rain cover to keep you both dry on those wet and windy commutes. You'll also find a padded laptop compartment and separate garment sleeve to store a couple of shirts or trousers – so you can pack more than one option for wherever the day takes you.
And just like the Alpha C, you benefit from the flexibility of our 3-way carry system. Jog it backpack style, work it with a briefcase and head on out with a hands-free shoulder bag that doesn't look out of place in a slick city bar.
Capacity: 10-13L
Weight: 1kg
Rucksacks with laptop compartments
If you're building up extra miles on your way to the office, then you'll need a bag that can not only safely store your gear but your laptop and work bits too.
Here at Stolt, we combine the practical requirements of a running backpack with the style and storage for the working professional. You can build the personal kit you need for your active lifestyle including garment boxes, rain covers and laundry bags to keep your running kit away from your fresh, clean clothes.
But first up you need to pick the perfect backpack for you. Here are three of our favourites for runners, each of which boast the best sweat-proof material on the market.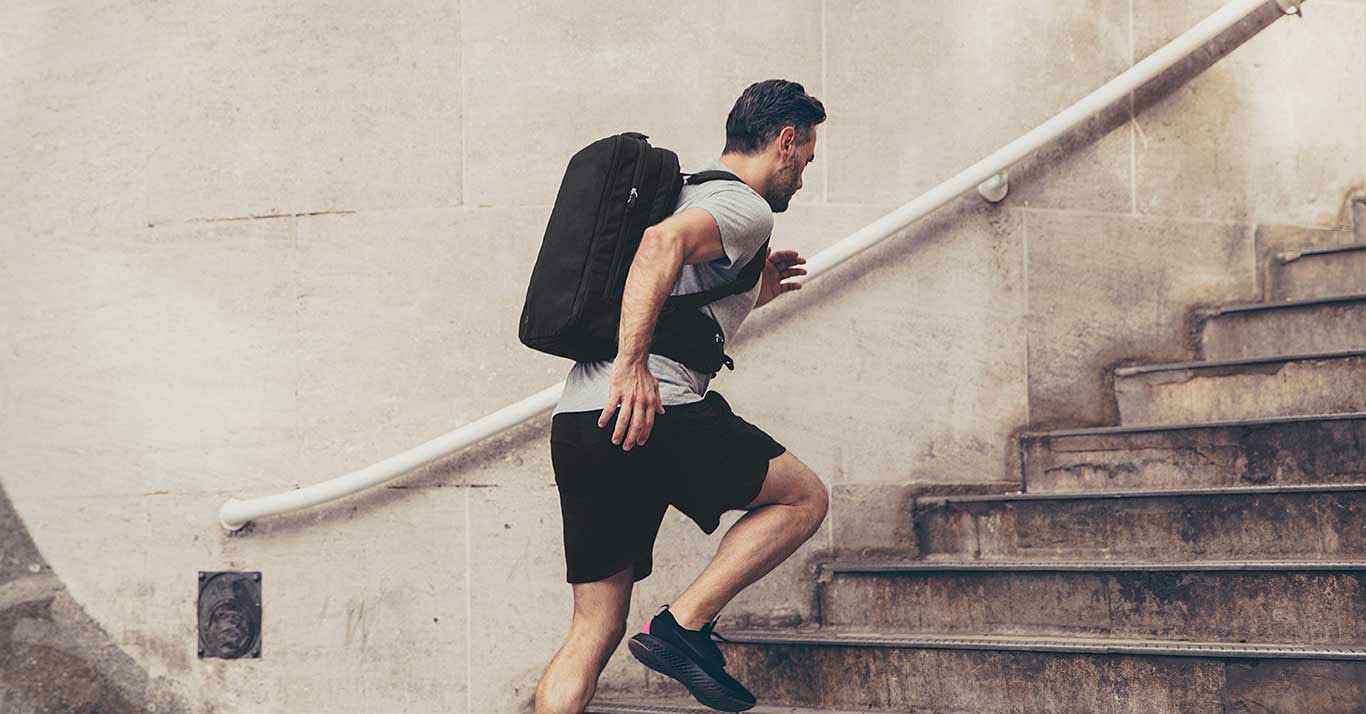 Alpha Backpack
It's a running backpack, it's a commuter essential, it's the only bag you'll ever need. The fourth edition of the bestselling Alpha bag is made to stand the test of time. Power stitching and the latest YKK hardware are the newest features on this award-winning design where tech and style come together.
The hide-away strap mechanism combines four variations of straps and handles to get you through the day. Padded shoulder straps provide exceptional comfort whilst running, plus ones across the chest and waist for extra sturdiness. Each can then be tucked away to reveal a sleek office-ready design.
Anti-microbial treatment is also applied to a soft mesh back panel and interior shoe pocket for odour-free freshness – so you'll always arrive looking and smelling good.
Alpha Sport Bianco
Work hard, run hard with the Alpha Sport Bianco. This extra sporty take on the classic Alpha backpack will not go unnoticed. Instead you'll be the envy of fellow runners and colleagues.
The white exterior is seriously sharp – and don't worry, it'll stay that way. We wouldn't design a white backpack for runners and commuters without considering dirt. That's why the Bianco also comes with an innovative treatment that repels dust and debris from city life and country roads. It's also easily wipeable – just in case you don't spot that puddle.
Whether you're enjoying your daily run or heading for the trails, this running backpack is the ultimate companion. It's comfy, roomy and light enough to carry – even with your energy drinks and snacks inside. Or pop one in a waist pocket for on the go nutrition.
You'll also get a free high-visibility rain cover that stores inside the bag's back panel – what more could you need?
Capacity: 20-25L
Weight: 1.2kg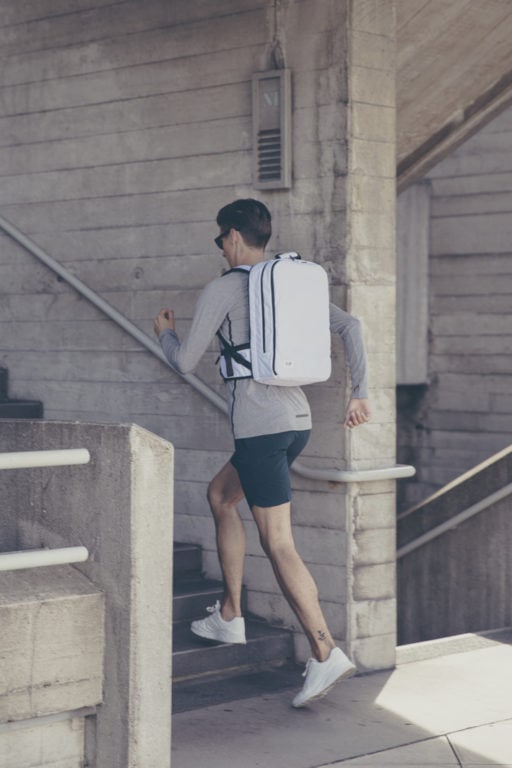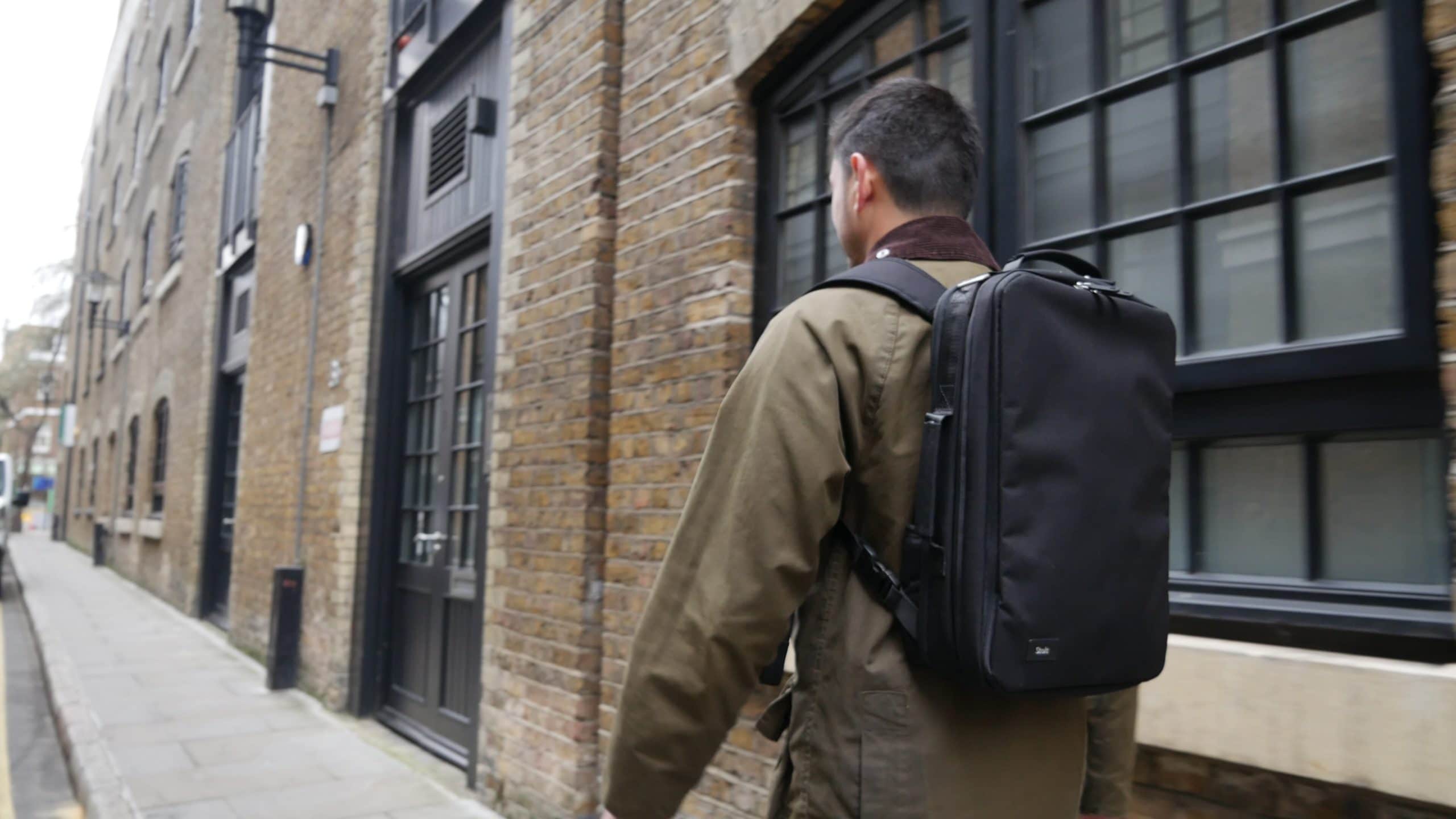 Podium Backpack
On days where you workout – or just work – the Podium is your go-to accessory. The 3-way carry design allows you to style your bag, your way, from backpack to briefcase to hands-free shoulder bag.
Designed to take you from the gym to the boardroom in one seamless switch, the Podium is a slim running backpack that combines high-tech features with a streamline look. And with a built-in garment sleeve, you can pack up and store your workwear with ease.
Our signature 3-way shield finish also keeps your bag as fresh as its good-looking design. Combating water, sweat and odour, you'll never suffer from a wet or whiffy backpack, no matter how often you get caught running in the rain.
Capacity: 10-13L
Weight: 1kg
| | Alpha C Business Set | Alpha Business Set | Athlete Commuter Set | Podium Business Set |
| --- | --- | --- | --- | --- |
| Capacity | 20l->25l | 20l->25l | 15l->18l | 10l-13l |
| Weight | 1.4kg / 3.1lbs | 1.2kg / 2.6lbs | 1kg/2.2lbs | 0.7kg / 1.5lbs |
| Material | 1680D Ballistic Nylon | 500D Nylon | 500D recycled polyester | 500D Nylon |
| Side handle | | | | |
| Electronics Organisation | Separate compartment with padded laptop sleeve and multiple pockets | Separate compartment with padded laptop sleeve and multiple pockets | Separate compartment with padded laptop sleeve and multiple pockets | Padded laptop sleeve & easy access pocket |
| Garment packing | Separate Garment box | Separate Garment box | Separate Garment box | In-built Garment Sleeve |
| Expandable pocket | | | Expandability with roll top | |
| Hide-away straps | | | | |
| Carry options | Backpack (business & sports mode), top-handle, briefcase | Backpack (business & sports mode), top-handle | Backpack (business & sports mode), top-handle, detachable waist belt | Backpack (business & sports mode), top-handle |
| | | | | |
| | NEW Alpha design with a super tough, rugged material and a side handle perfect to cycle or walk to the office and overnight business trips | ORIGINAL Alpha design with a super durable, yet light-weight material designed for runners and cyclists as well as business travellers | ATHLETE is our rolltop design with a more relaxed feel and water bottle pockets for city runners and cyclists alike. | PODIUM design is half the size of Alpha making it the perfect day pack for those looking to pack light and run for longer distances |
| | | | | |
| | £249 | £198 | £198 | £169 |
How to choose a running backpack
When it comes to picking the best running backpack, you may be overwhelmed by the number of options. From lightweight packs to substantial rucksacks, there's a whole bunch of different styles to suit different needs. If you're not sure where to begin, start by considering the below all-important factors that impact the quality of a running backpack.
Strap in
It all starts with the straps. In order to run comfortably, you'll need a bag with a snug fit to avoid too much movement. This will stop your shoulders from screaming after a day on the tracks.
Consider the mileage
Where are you heading? If you're a long-distance runner or off on an ultramarathon, you're going to need different supplies to a city commuter. Will you need room for a full clothes change, electronics or smart shoes? If so, a running backpack with a laptop compartment such as the Alpha is a must. If you're swapping to shirt and tie after a casual jog, then the smaller sized Podium will suit you just fine.
Similarly, if you're heading out after dark, you'll need a Stolt hi-vis cover to keep you visible. It'll also add an extra layer of protection to your bag incase of a storm, so there's that too.
A ventilation system
Unless you're running in the middle of winter, you're going to get a little sweaty. And whilst backpacks unavoidably cause a bit of back sweat, there are models that help to limit the inevitable.
The best runners backpacks are designed with mesh back padding to keep air circulating as you go. All Stolt designs combine this with innovative anti-microbial technology that stops sweat from soaking inside and keeps your backpack smelling fresher for longer.
Work worthy design
Running backpacks typically have most of what you need to get from A to B. But it can be hard to find one that's also suitable for the office. If you're running to work on the regular, you'll need a backpack with a laptop compartment but also one that measures up to your boss's bag.
For this reason, Stolt backpacks were born. Our minimalistic designs and functional features combine everything you need from shoe storage and garment sleeves to a gym bag to store your workout gear.
The best running backpacks
Whether you're pounding the pavement or trekking a trail, a running backpack is a must-have accessory for when you're on the go.
We're not boasting when we say Stolt backpacks are the best in the business. Designed for professionals, athletes and city workers, our award-winning range enables you to commute (and run) in stylish comfort.
Padded straps and ventilated back panels are guaranteed – as is our signature anti-microbial material to ward off water and sweat. But you'll also benefit from space to store your clothes crease-free, whether in an in-built garment sleeve or separate box. Plus there's the hide-away handles to turn your backpack into a fresh, functional design.