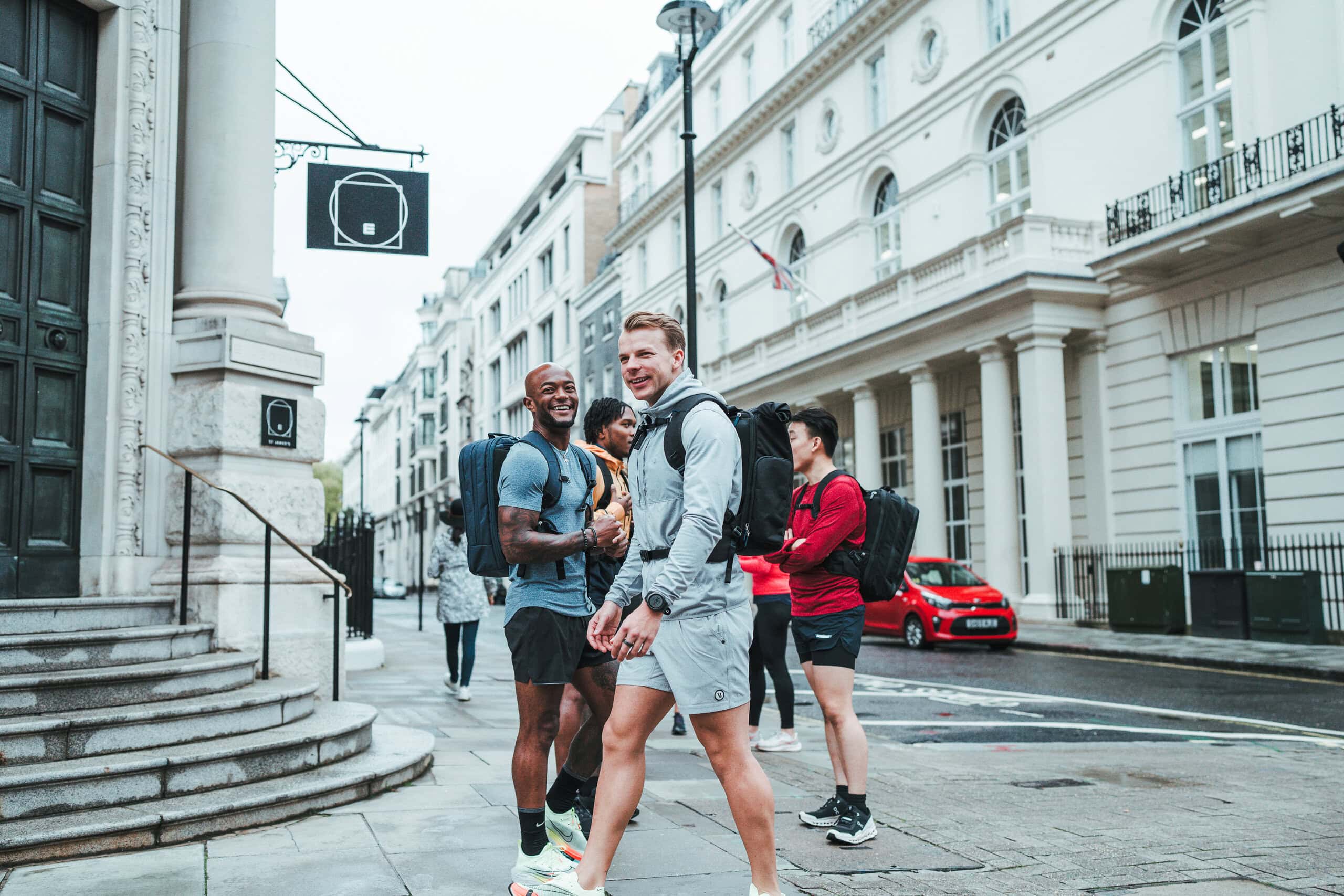 Commuter Backpacks By Stolt
The Best Commuter Backpack and Best Commuter Rucksacks
Shop the best commuter backpacks on the market, from sweat resistant bags to runner-friendly backpacks. With free worldwide shipping and 2 year warranty.
Commuter Backpacks
Commuter backpacks are fast becoming a must-have accessory. Built with comfort, style and size in mind, they can hold everything you need for the working day whilst still being small enough to carry around the city.
If you're a serial commuter then you'll need a bag that can match your pace of life. Whether that be for long strolls, speedy runs or urban cycles to the office.
Here at Stolt, we design multifunctional bags for the active professional. Meaning you can commute in comfort without compromising on style. From our hide-away handles to our sweat-resistant material, every feature is developed to make your daily commute simple and stress-free.
Discover our collection of running backpacks and accessories to make your journey to and from work one you look forward to.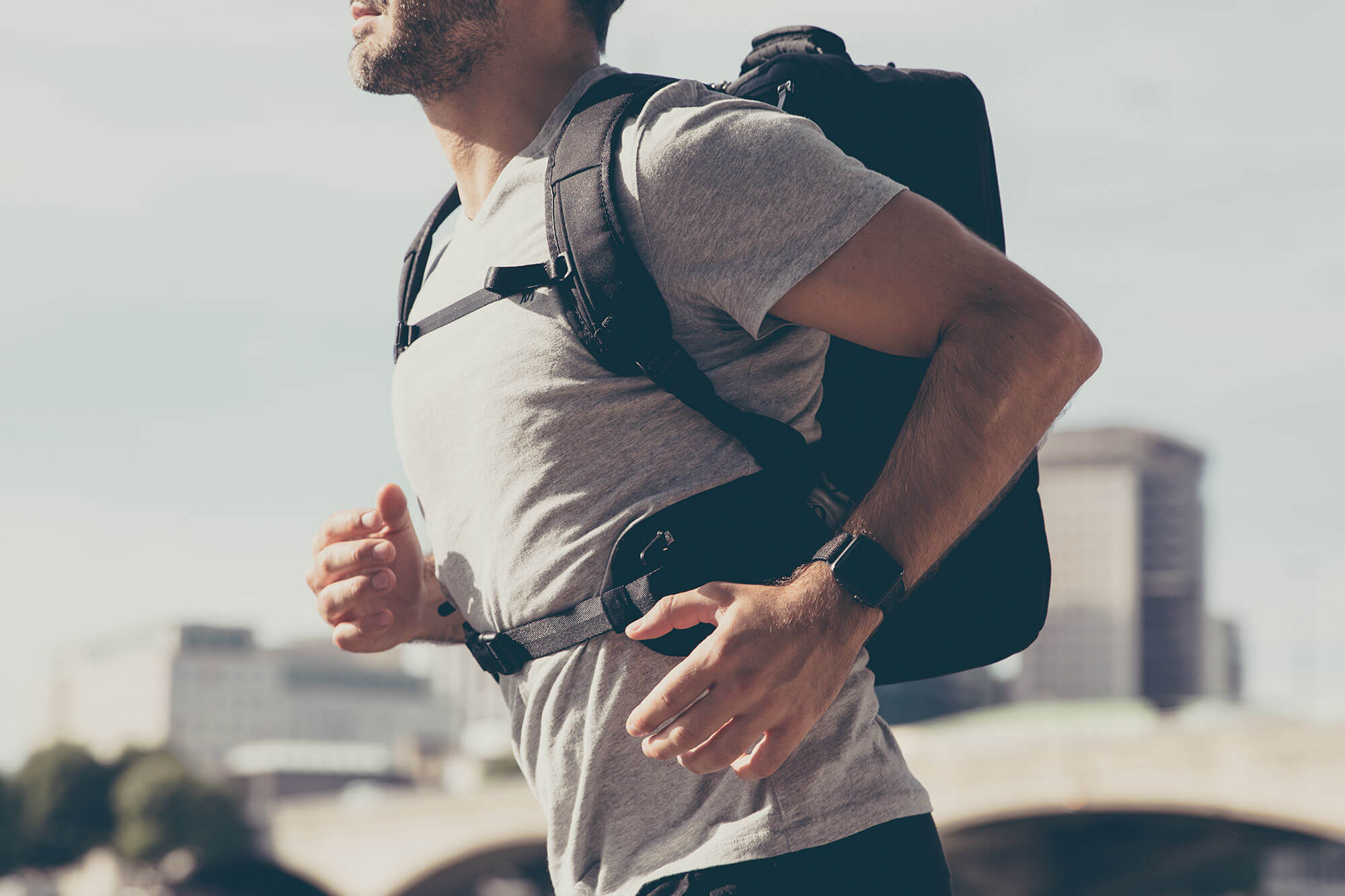 Meet Stolt
Backpacks for commuters designed by commuters
Stolt makes the best commuter backpacks by combining the style of a work bag with practical necessities.
Based in London, we know what it's like to navigate the city. No matter the weather, you'll always be faced with sweaty trains, the risk of rain and a jostle on the streets – so you'll need a bag that works as hard as you do.
That's where our commuter backpacks come in. Our award-winning range is designed with high functioning material and features that make your commute to the office, gym or business trip abroad smooth and simple.
Lightweight, high-quality material
Multiple compartments
Expandable shoe pocket
Sleek design for multiple uses
Protective laptop compartment for devices up to 16"
Padded back panel and adjustable straps
Hide-away strap system
Rain, sweat and odour resistant
Optional garment box for crease-free clothing
Option to add a folding assistant, hi-vis cover and laundry bag
With all the above performance features and more, we believe we've engineered the best commuter backpack on the market.
Commuter backpack sets
Our backpack sets come with all the essential accessories you need to pound the pavement from the streets to the office.
Change into wrinkle-free workwear, stored in a light-weight garment box that fits nearly inside your commuter backpack. Available in both black and blue. A separate sleeve keeps small personal items safe whilst a folding card helps you to neatly fold shirts, trousers and jackets without creases – even whilst on the move.
You can store your sweats in an odour-free, anti-microbial laundry bag to deal with later. Plus a high-visibility dirt cover keeps you and your backpack smart and safe come rain or shine.
Alpha Business Set
Our latest edition of the award-winning Alpha Business Set is perfection at its best. New and improved – with the same painstakingly considered sleek design – this commuter backpack is guaranteed to make you the envy of the office.
Padded shoulder straps against a breathable mesh padded back panel make it super comfy to move with. Whilst the anti-microbial treatment keeps everything odour free and fresh even if you get a sweat on.
Talking of straps, you've also got a sternum chest strap and waist strap with easy-access pockets for when you're on the go. Yep, we've truly thought of everything. And what's more, you can unclip and stash them for a flawless transformation from gym-goer to boardroom boss.
Then there's the storage. Carry your clothes neatly inside a hard shell garment case that'll keep all your shirts and trousers free from creases no matter how much you move. Perfect for post-gym outfit changes or a business trip.
No wonder it's been voted one of the best running backpacks for commuting by the likes of the Evening Standard, WIRED and Expert Reviews.
Capacity: 20-25L
Weight: 1.2kg
"The best bag for your new commute" – WIRED
Alpha C Business Set
It's super durable. It's even more flexible. It's the Alpha C. Backpack, briefcase, crossover – the Alpha C can be whatever you want it to be. With an additional strap on the side, you can convert this set from a sport to work bag in the time it takes to reach your desk.
Just like you, this commuter backpack is made of sterner stuff. The Alpha C Business Set comes with all the fancy features of our original Alpha, plus a side strap and extra tough material that can handle any commute. It's thanks to the 1680D ballistic nylon that you'll never need a new backpack again.
As well as its sturdy nature, the Alpha C is both water and sweat repellent. So you'll be well prepared for unpredictable weather, come rain or a humid heatwave.
Your suit and tie will be well protected in a hard-shell garment case that slots perfectly into the main compartment. That's the one next to the padded laptop pocket and pen hooks. And the expandable compartment for shoes and bigger items. It's what WIRED calls "supreme organisation". You're welcome.
Capacity: 20-25L
Weight: 1.4kg
Podium Business Set
Our latest edition of the Podium Business Set is made for the daily commuter. It's smaller and more compact than the Alpha but still packs a punch with plenty of space to store your necessities.
You'll never sweat the small stuff again with the Podium by your side. Keep your laptop secure in a padded pocket with an expandable compartment for valuables and chargers. Whilst a built-in garment sleeve keeps clothes pressed and secure no matter how you travel. Plus a folding card assists in easy garment folding.
All this can be carried your way, your style. Go classic backpack whilst on the run or convert to a briefcase for a boardroom ready look. A removable strap also gives you a hands-free option, transforming the Podium into a smart shoulder bag. Add the hi-vis rain cover and you're set for every possible occasion.
Capacity: 10-13L
Weight: 1kg
Commuter backpacks
Don't need to go hi-vis? Might fancy a garment box? Build your own personal set to include everything you need – starting with a bag to store your kit.
We have three styles of commuting backpacks, each varying in size, colour and design. All benefit from our one-of-a-kind water and sweat resistant material that's been treated with anti-microbial properties to ward off sweat and odour.
Whether you're cycling, running or strolling to work, our collection of commuter backpacks are a versatile, practical companion. No matter how you get there.
Alpha Backpack
Meet the Alpha 4.0. Our latest and best running backpack for commuting. With a hideaway strap system and sleek professional design, you can go from a functional backpack and commuter trainers to a smart suit and shoes in minutes.
Here is where tech meets style. Fom durable mesh padding to YKK zippers, power stitching to concealable straps; each and every aspect has been thoughtfully designed to create a backpack that'll stand the test of time through every one of life's hurdles.
Expert Reviews say it's the "best backpack for commuters" and who are we to argue? The sweat-repellent outer material keeps your clothes, stationary, laptop and shoes super fresh (each with their own compartment of course).
Grab it in classic black, business blue or a casual blue look with a striped interior – a favourite for sport enthusiasts.
"Hands-down the best commuter backpack we've tried" -Coach Mag
Alpha Sport Bianco
Urban warriors will love the Alpha Sport Bianco. This stylish commuter backpack is made for city life with innovative dirt repellent that wards off dust and grime. Plus it's easy to wipe clean. Tube pollution be gone!
You'll get all the other modcons of our signature Alpha bag including hideaway straps, an ergonomic design and anti-microbial treatment to fight off sweat. And a hi-vis rain cover thrown in for good measure.
Whether you're on the run or biking it, the Alpha Sport Bianco is the ultimate commuter bag for serious speed daemons. The clean white look makes for a smart sporty style with our signature white and blue inner lining to protect your belongings.
Capacity: 20-25L
Weight: 1.2kg
Podium Backpack
The best commuter backpacks come in all shapes and sizes. This one is slightly smaller. If you've got less stuff than average Joe, but still need to carry your clothes and electronics, we've got you sorted.
The Podium is a compact yet functional backpack, perfect for daily use. Store your garments wrinkle-free in a separate internal sleeve whilst your laptop stays protected in a padded pocket.
Removable and hideaway straps mean you can mix up your style throughout the week. Backpack, briefcase or shoulder bag – which will you choose today? Plus pockets on the waist straps add an easy-access place to store your pass and keys – speeding up your journey to and from the office.
"Combining high-tech features with a streamline design, say hello to the commuter's dream" – The Evening Standard
Capacity: 10-13L
Weight: 1kg
| | Alpha C Business Set | Alpha Business Set | Podium Business Set |
| --- | --- | --- | --- |
| Capacity | 20l->25l | 20l->25l | 10l-13l |
| Weight | 1.4kg / 3.1lbs | 1.2kg / 2.6lbs | 1kg / 2.2lbs |
| Material | 1680D Ballistic Nylon | 500D Nylon | 500D Nylon |
| Side handle | | | |
| Electronics Organisation | Separate compartment with padded laptop sleeve and multiple pockets | Separate compartment with padded laptop sleeve and multiple pockets | Padded laptop sleeve & easy access pocket |
| Garment packing | Separate Garment box | Separate Garment box | In-built Garment Sleeve |
| Expandable pocket | | | |
| Hide-away straps | | | |
| Carry options | Backpack (business & sports mode), top-handle, briefcase | Backpack (business & sports mode), top-handle | Backpack (business & sports mode), top-handle, briefcase, over the shoulder |
| | | | |
| | NEW Alpha design with a super tough, rugged material and a side handle perfect to cycle or walk to the office and overnight business trips | ORIGINAL Alpha design with a super durable, yet light-weight material designed for runners and cyclists as well as business travellers | PODIUM design is half the size of Alpha making it the perfect day pack for those looking to pack light and run for longer distances |
| | | | |
| | £249 | £198 | £169 |
How to choose a commuter backpack
There's a few things to review when picking the best commuter backpack for the office, and your journey to and fro. It's not just about aesthetics – you need a bag that can look as good as it performs. Here's just a few top considerations when choosing your commuter companion.
Comfort first and foremost
Carrying a backpack through the city can be tough on your shoulders. So you'll want to make sure to pick a bag that's comfortable when loaded with your laptop and clothes.
Here at Stolt, we don't make you pick between comfort and style. All of our commuter backpacks are designed for a hardworking lifestyle, with ventilated padding and stable straps to keep you balanced. Plus they're each adjustable so you can ensure your bag fits you to perfection.
Consider your commute
Are you a runner? Cyclist? Train hopper? Your journey may influence which backpack is best for you – if you're spending more time outdoors than you'll want to be prepared for a British downpour. Stolt backpacks are each made with water resistant nylon, whilst our hi-vis cover adds an extra layer of protection that'll also keep you safe in the dark.
What's the load
The size of your backpack will depend on the amount you need to carry. If you're commuting with a laptop, outfit change, lunch and valuables – you're going to need a bigger bag such as the Alpha. If you're sticking to a new shirt and laptop, you can get away with something smaller. The Podium is the best commuter backpack for daily use.
Business ready
Practical backpacks can tick most boxes but not all of them are appropriate for the office. Make sure to pick a bag that suits your business attire and provides enough room to store your suit neatly inside.
Stolt backpacks are a smart choice, with sleek, minimalistic designs and premium materials. The addition of a garment box is also worthwhile, providing a protected space to store jackets, shirts and trousers crease-free for a quick change or overnight business trips.
The best commuter backpacks by Stolt
Whether you're running to work, or legging it home, a commuter runner backpack is the ultimate accessory to speed up your journey.
Enter Stolt. Stolt bags are designed for the active commuter. Padded back panels and adjustable straps allow for maximum comfort and airflow, each of which can be tucked in whilst running or hidden away to make the switch from sport to work bag.
But our innovative anti-microbial treatment is where we shine – combating sweat and odour, even with your gym kit inside. Plus there's all the space to store your electronics, shoes, and clothes crease-free with the help of our folding card.